2D wooden world map Light
Use a wooden world map to create an accent wall in any room of your choice.
Whether in the living room, study or bedroom, an accent wall with a wooden world map will draw attention and give the space a unique ambience.
Hang a large wooden world map above a sofa or fireplace to create an attractive focal point in your living room. This will add a touch of travel and adventure to your communal space. Use a wooden world map as a wall decoration in your office or home workspace. It will remind you of the destinations you want to visit and stimulate your creativity and imagination. Add a wooden world map to your bedroom wall to create a soothing, inspiring atmosphere. This will allow you to dream of your future adventures and feel connected to the world.
Technical information:

Material: High-quality birch plywood with impeccable engravings.
Thickness: 4 mm
Language on the map – French/English
Size:
S: 80 cm *55 cm
M: 100 cm *70 cm
L: 150 cm *100 cm
The map is extremely detailed, with engraving of: country names, cities and borders, U.S. states, Canadian provinces and Australian states.
The map includes :
– Large wood panels: North America, South America, Europe, Africa, Australia, Greenland and various smaller islands.
– Compass, 2 planes, boat, anchor, whale, ocean names
Islands included:
Aruba, Azores, Bahamas, Bali, Borneo, Cape Verde, Cyprus, Corsica, Crete, Cuba, Fiji, Galapagos, Great Britain, Barbados, Greenland, Hawaii, Hispaniola (Dominican Republic & Haiti), Mauritius, Canary Islands, Faeroe Islands, Falkland Islands Haiti), Mauritius, Canary Islands, Faroe Islands, Falkland Islands, Solomon Islands, Pagues, Caribbean Islands, Indonesia, Iceland, Ireland, Jamaica, Japan (Hokkaido, Honshu), Java, Madagascar, Maldives, Malta, New Guinea, New Caledonia, New Zealand, New Zealand, Lesser Sunda Islands, Philippines, Puerto Rico, Reunion, Sakhalin, Sardinia, Seychelles, Sicily, Sri Lanka, Sumatra, Sulawesi, Tahiti, Taiwan, Newfoundland, Tasmania, Vancouver, Wellington, plus 10 unnamed islands.
Because the maps are handmade from natural materials, the texture of the wood reacts differently to the paint. This effect can give different tones to the maps, making them original and unique.
Please note: the map is not a geographical map, it is a decorative element: some small countries and islands can be omitted because of the scale problem.
All you need is a little enthusiasm and a few hours of fun to install this card! Everything else is provided!

1. Attach corner stencil #1 to the top left. Then measure the distance according to the size of your map (S,M). Then attach stencil #2 in the upper right corner.
2. Lay out all the parts of the map on a flat surface.
Cut 2 cm pieces of double-sided tape. Stick the pieces of double-sided tape to each piece of the Map.
3. Start attaching the pieces to the wall with the outer parts (North America and Russia). Attach the rest of the pieces, enjoy the assembly and have fun reviewing your geography! 🙂
Give character to your four walls!
✈️

Travel and mark countries you have visited with the

pins

!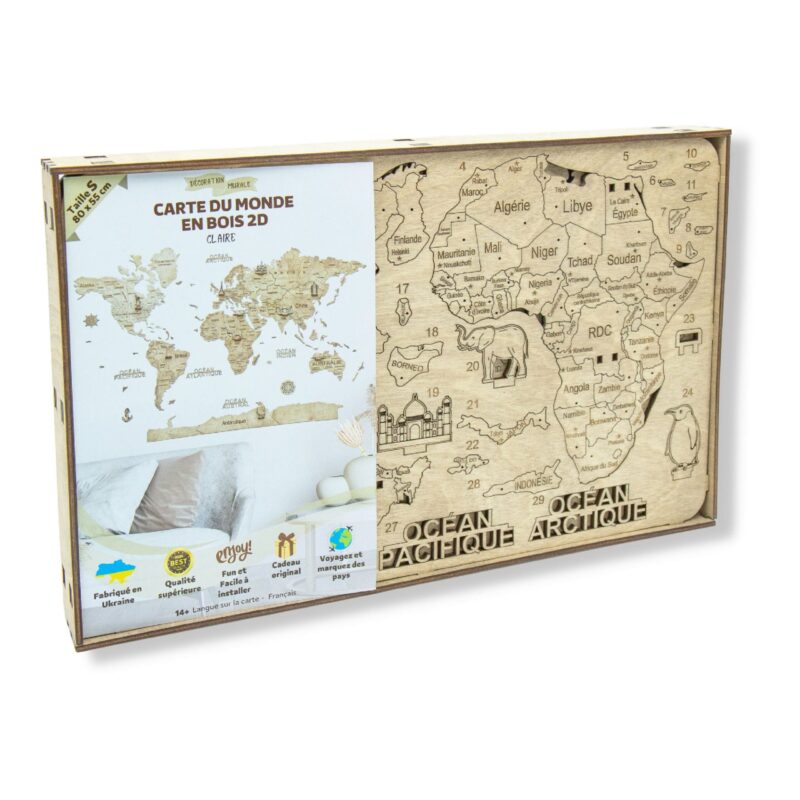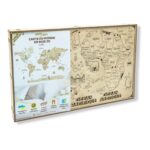 Wooden map: continents and islands (with country names and borders), Antarctica, wooden planes, boats and a compass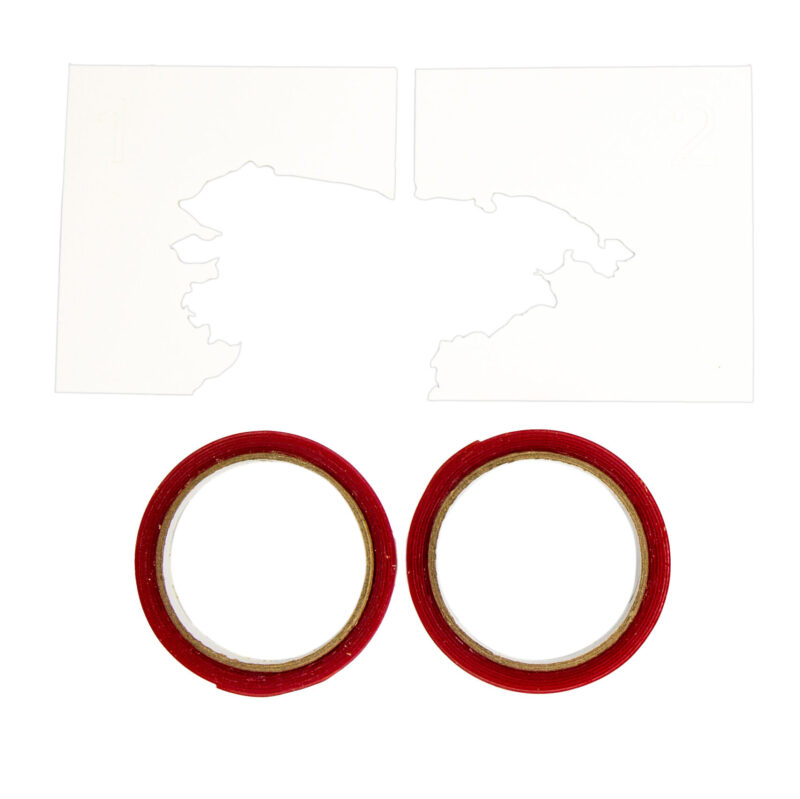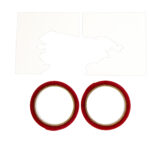 Double-sided adhesive tape for wall mounting, corner stencils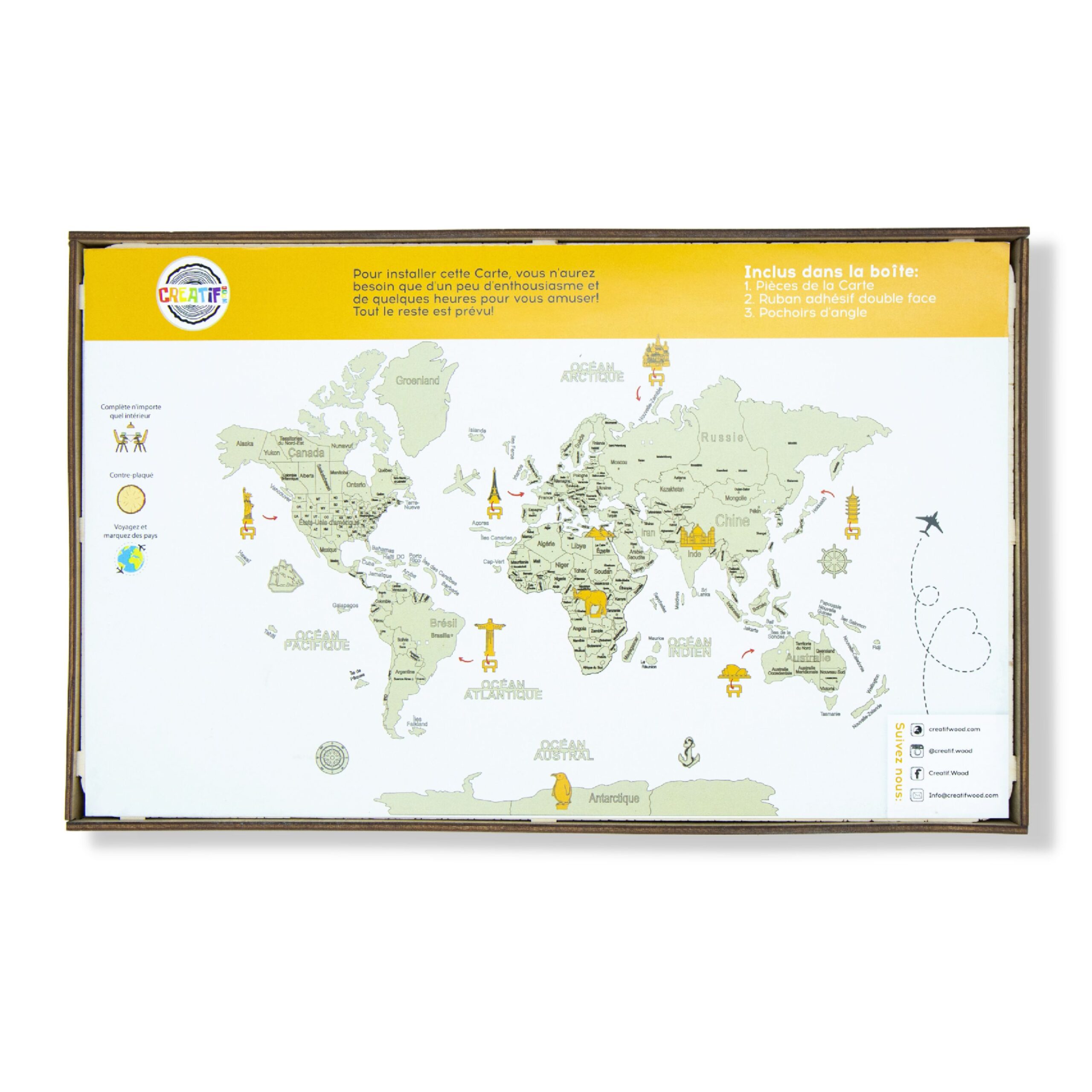 Installation instructions
How do I attach the map to a wall?
Our maps come with special double-sided adhesive tape strong enough to hold the map pieces to the wall.
Is it possible to remove the map from the wall and reassemble it without damaging it?
If you want to remove it from your wall, you will need a hair dryer. Direct the airflow between a piece of map and the wall, wait a little and remove them one by one. To reinstall the map, you will need to buy more tape, the old one will not work.
What should I do to take care of the map?
There are no specific rules. However, there are a few recommendations: avoid placing the map in humid areas or exposed to direct sunlight and avoid applying abrasive substances to its surface.
I want to order several maps
Write to us at info@creatifwood.com and you will receive a personalized quote within 24 hours.